Thank you for joining us!
Thank you to everyone who joined us
for our recent Community Event, Aging Parents: Navigating the Journey and our Annual Spring Fling, at Grumpy Doyle's. Both events filled up fast! Read more >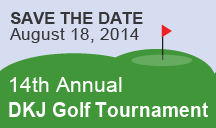 Our Sponsors
Thank you to all of our wonderful sponsors for your support of The David K. Johnson Foundation and your commitment to finding a cure for Alzheimer's and helping families affected. See our Sponsors >
Registration for DKJ's 14th Annual Golf Tournament is officially open!
We invite you to click here to learn more about our golf tournament and sponsorship opportunities.
August 18th at Four Oaks Country Club in Dracut MA
Join Our Email List
---
Keep in Touch!
Join our e-mail list to learn about upcoming DKJ news and events!

Latest News
---
Women are Carrying the Bigger Burden of Alzheimer's Disease
March 18th 2014
Women are carrying the bigger burden of Alzheimer's disease in the U.S., according to a new report. Read More >
The Economic Ripple Effect of Alzheimer's Disease
March 10th 2014
Because it is an aging disease, concern about Alzheimer's is mostly (and rightly) focused on patients and their families. Read More >
Seth Rogen, Dennis Moore Testify at Senate Hearing
February 26th 2014
The Appropriations Subcommittee on Labor, Health and Human Services, Education, and Related Agencies held a hearing dedicated to the economic impact of Alzheimer's disease in America. Read More >
Diagnosing Alzheimer's: New Blood Test
April 28th 2014
A new blood test, which has the potential to accurately diagnose Alzheimer's disease in individuals and significantly advance drug testing and research on the disease… Read More >