Thank you for joining us!
Our golf tournament on August 18th raised over $40,000 for Alzheimer's research and support. Thank you to our sponsors, golfers and volunteers for making this tournament DKJ's most successful golf event yet.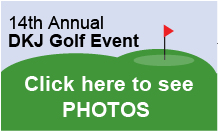 Our Sponsors
Thank you to all of our wonderful sponsors for your support of The David K. Johnson Foundation and your commitment to finding a cure for Alzheimer's and helping families affected. See our Sponsors >
Stay tuned for more exciting events from The David K. Johnson Foundation.
Join Our Email List
---
Keep in Touch!
Join our e-mail list to learn about upcoming DKJ news and events!

Latest News
---
Cure Alzheimer's Fund Announces A Trio of Breakthroughs
Nov. 10, 2014
Recent months have witnessed three remarkable developments in projects supported by Cure Alzheimer's Fund Read More >
Are Brain Cell Regeneration Drugs Ready for Prime Time?
Aug. 12, 2014
A promising first-in-class drug stimulates the creation of new nerve cells in the brains of Alzheimer's mice and will soon be tested in the brains of human patients Read More >
Diagnosing Alzheimer's: New Blood Test
April 28th 2014
A new blood test, which has the potential to accurately diagnose Alzheimer's disease in individuals and significantly advance drug testing and research on the disease… Read More >
Women are Carrying the Bigger Burden of Alzheimer's Disease
March 18th 2014
Women are carrying the bigger burden of Alzheimer's disease in the U.S., according to a new report. Read More >
The Economic Ripple Effect of Alzheimer's Disease
March 10th 2014
Because it is an aging disease, concern about Alzheimer's is mostly (and rightly) focused on patients and their families. Read More >